发布日期:2021-03-09 19:26:23 来源 : www.samung.cn 作者 :三铭实业有限公司 浏览量 :157
Articles worn by workers to avoid or mitigate accident injuries and occupational hazards.For the work that the working conditions cannot be fundamentally improved, it is the main protective measure, and the primary prevention is divided into seven categories: hats, clothing, ear protectors, respiratory protectors, protective glasses and skin protective equipment.
1. Helmets -- construction workers
Safety helmet to prevent heavy objects falling, welder's protective cap, mine safety dust cap (mouth and nose cover), dust and noise safety helmet.
2. Protective clothing
Clothing, hat, trousers, apron, shoe cover.Prevent or reduce the pollution of thermal radiation, X - ray, microwave radiation and chemical poisons to the body.Fire retardant suit, ventilation suit, refrigeration suit, acid and alkali proof suit, microwave shielding suit (metal wire copper wire, gold-plated cloth), dustproof suit.
3. Protective glasses and masks
Protective glasses - radiation-proof lines (welding, laser, microwave, forefurnace), using reflective and absorbent lenses;
Protective mask - solid debris (stomatologist), chemical solution, heat protection, welder mask.
4. Respiratory protectors
Dust mask, gas mask, gas mask, etc.
Filter type respirator: the toxic gas content in the air is not high, oxygen is not less than 18%.
Isolated respirator: Inhalation of off-site air.There are two types: built-in and input.
Mechanical filtration: dust, smoke.Self-priming filter respirator with regular replacement of filter material;
Chemical filtration: gas mask.
5. Anti-noise equipment: earplugs, earmuffs and anti-noise helmet can reduce the sound intensity by 20 ~ 50 dB.
6. Skin protective products Gloves, cream - protective hands and forearms;Organic solvents, oils, dyes -- casein protective cream.
Samung Industries Ltd. has become a comprehensive industrial company focusing on the production and sales of personal protection, packaging materials, security equipment.The company serves the Chinese and international markets.The main products are industrial and agricultural packaging, security and anti-counterfeiting packaging, personal medical and health supplies, safety protection supplies, security monitoring equipment, etc.
为避免或减轻事故伤害和职业危害,工人随身穿戴的用品。对于劳动条件不能从根本改善的作业,为主要防护措施,一级预防分为:帽、服、护耳器、呼吸防护器、防护眼镜、皮肤防护用品等七类。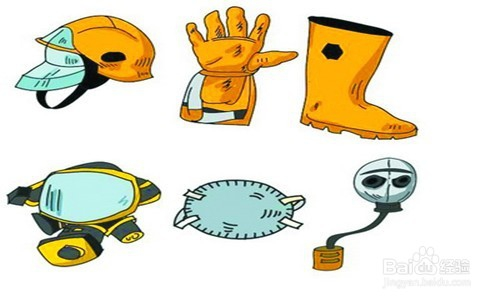 1.防护帽——建筑工人




预防重物坠落安全帽,电焊工防护帽、矿用安全防尘帽(口鼻罩)、防尘防噪安全帽。




2.防护服




衣、帽、裤、围裙、鞋罩。防止或减轻热辐射、X射线、微波辐射、化学毒物对机体的污染。防火阻燃服、通风服、制冷服、防酸碱服、微波屏蔽服(金属丝铜丝、镀金属布料)、防尘服。




3.防护眼镜和防护面罩  




防护眼镜——防辐射线(焊接、激光、微波、炉前工),使用反射性和吸收性镜片;  




防护面罩——固体碎屑(口腔科医生)、化学溶液、防热、电焊工面罩。




4.呼吸防护器  




防尘口罩、防毒口罩、防毒面具等。  




过滤式呼吸防护器:空气中有毒气体含量不高,氧气不低于18%.  




隔离式呼吸防护器:吸入非现场空气。自带式和输入式两类。  




机械过滤:粉尘、烟雾。自吸过滤式防尘口罩,定期更换滤料;  




化学过滤:防毒面具。  




5.防噪声用具:耳塞、耳罩和防噪声帽盔,声音强度衰减20~50分贝。




6.皮肤防护用品  手套、膏膜——防护手和前臂;有机溶剂、油料、染料——干酪素防护膏。
三铭实业有限公司已经成为一家专注于生成和销售个人防护,包装材料,安防器材的综合性实业公司。公司服务于中国和国际市场。主要产品有工农业包装,安全防伪包装,个人医疗健康用品,安全防护用品,安防监控设备等。